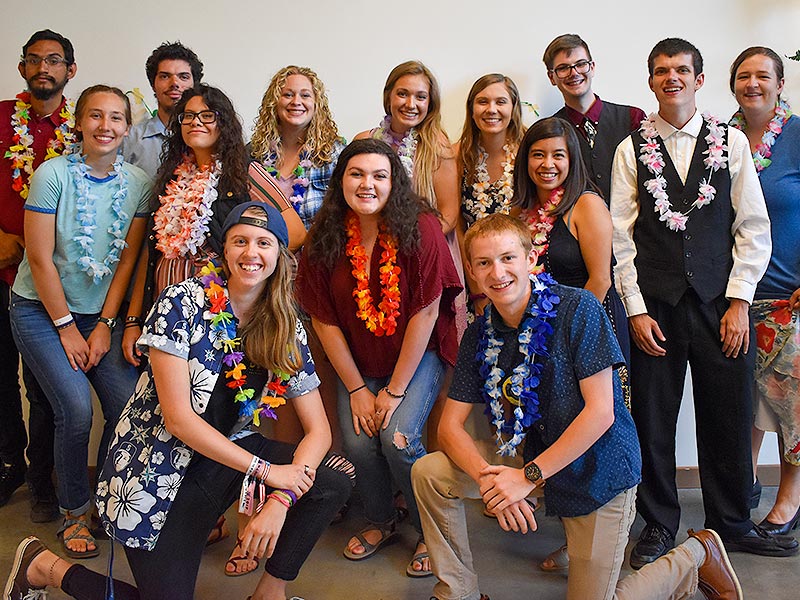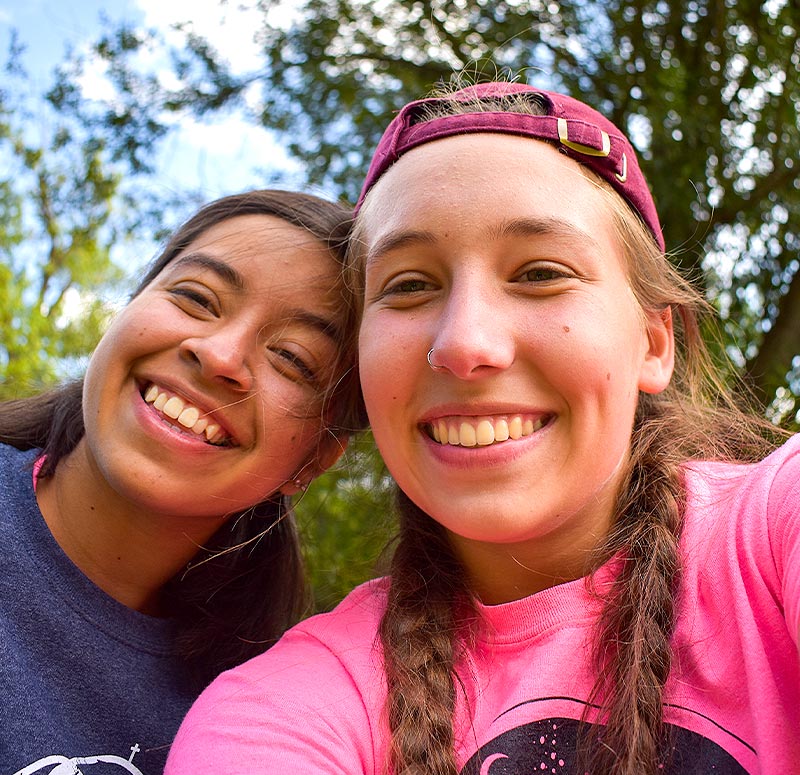 Lazy F is hiring a dozen or so phenomenal young adults to form our summer staff. Together, they will work in the roles of cabin counselors, media personnel, and program staff in order to make camp happen. We hire staff who desire to play hard, work hard, and serve hard as positive role models for our campers in the Christian community we create here.
Camp is more than a paycheck. It is a real opportunity for personal and professional development. Our staff set goals for themselves each summer. We train and coach to those goals and celebrate success as it comes.
We hope you decide to get paid to play and grow with us this summer. If a full summer of work is not in the cards for you this year, we would be happy to discuss volunteer opportunities or employment in future summers with you.
Counselor/Program Staff
Job Description:
We hire most of our summer staffers to serve in the counselor and program staff position. As counselors these staffers are directly responsible for the safety, supervision, growth, and fun experience of our campers. They guide campers through the day, stay with them in the cabins at night, teach faith and values in a hands-on way, and participate in the fun the campers are having. On given weeks of camp, as camper registration numbers permit, some counselors will "switch" over to being program staff who do not directly supervise campers. Program staff are the extra hands—and brains—that help get the behind the scenes of camp done so that the magic can happen. Because every day at camp is a new adventure, summer staffers should expect the unexpected and be ready to help out in any way that they can.
Media Manager Job Description:
The Media Manager is responsible for capturing and sharing the joy, fun, and growth of camp through all kinds of media. The quintessential function of the Media Manager is to capture photos and videos to share with parents and Friends of Lazy F. The Media Manager will work closely with the Program Director to navigate any particular privacy needs of campers and to perfect and use our current distribution infrastructure. If the media manager shows a particular interest or proficiency in any of the following areas, related projects can be incorporated into the Media Manager's tasks for the summer: social media management, audio production, video production, marketing and advertising, real estate photography/videography.
Our first-time staff for the 2020 season are expected to arrive for staff training before June 16th at 9:00am. Our last group of campers leaves on August 14th. The following week, we clean up from camp and celebrate our successes. Staff may schedule with the Program Director to leave for the summer between August 14th and August 21st. Except for rare exceptions, all staff must depart from site no later than August 21st.
If you have any questions, we would love to help and chat: 
What are the minimum qualifications to be on staff at Lazy F?
For all summer staff positions, we have these minimum qualifications:
Be 18 years of age by the end of staff training.

Have a positive attitude and optimistic outlook about working with children.

Be willing to be coached and trained.

Conversational mastery of English.

Maintain a supportive attitude toward the United Methodist Church.

The willingness and ability to work on a team.

The ability to traverse stairs and uneven terrain, to live and work in varying weather conditions, to hike up to four (4) miles in steep terrain, to move up to 30 pounds of luggage or supplies to the bed of a pickup truck, and to reach, climb, grasp, push, pull, reach above and below shoulder level, squat, and bend.

Willingness to spend long hours supervising campers,

with a limited number of breaks during the day, 

including residing in the cabin with them through the night.

Finally, applicants should be able to maintain their well-being and a positive attitude while working outside for all or most of the day.

The Media Manager position also carries the following minimum qualifications:

Proficiency in the operation of a modern DSLR camera.

Ability to be self-directing.

Attention to detail and ability to remember details about campers as a necessary component of navigating privacy concerns.

A highly qualified applicant for Media Manager will also possess the following:

Working knowledge of Microsoft Windows products, Apple OSX products, Google Drive products, at least one photo editing software (Adobe Photoshop, Adobe Lightroom, GIMP, Canva, or equivalent) and at least one video editing software (Adobe Premiere, Adobe Rush, Final Cut, iMovie, Loom, or equivalent).

Access to and knowledge of their own photo/video equipment.

A desire to conceptualize media projects in collaboration with the Program Director and execute said projects independently.
How much do summer staff get paid at Lazy F?
All summer staff are paid $265 each week for their first summer. Staff also are provided housing through the entire summer and food when campers and guest groups are on site (that is most of the time).
Summer staff do not receive any paid time off. If you do require time off during the summer, that can be arranged during the hiring process; however,  you will not be compensated for that time. Pay is prorated by day absent. This also is true for any week that does not require full staffing or if the last clean-up week of camp does not extend through the entire week.
Staffers receive their pay for the month by check on the 25th of each month. Our returning staff are experienced in ensuring all staffers have an opportunity to cash or deposit their check quickly. 
Returning staff are eligible for raises and promotion to coordinator positions. These opportunities are discussed both at the end of the summer and in the subsequent season's hiring process.
I'm not a Theologian/Methodist/Protestant/Christian. can I still work at Lazy F?
Resoundingly, YES! We only have two requirements of our staff with regard to faith and belief.
First, we ask that you hold a positive attitude toward our ministry at Lazy F and the ministry of the United Methodist Church. Our goal at Lazy F is not to indoctrinate our campers in the minutiae of Methodism, but it is rather to love as Christ has loved us and connect campers to the greater, global church.
Second, we don't expect our staff to be theologians. We do require staffers to engage with our curriculum and share what they have learned about it with our campers. We will train you in our curriculum. We will help you learn how to navigate difficult questions. Most importantly, we have pastors on site who are a resource. You don't need to have all the answers; it's okay to say that you don't know!
At the end of the day, we believe that God's Will and Way are greater than our own. If you're unsure whether or not Lazy F is right for you, but feel called to apply, we will prayerfully consider the opportunity with you.
I live in another region of the USA or in another country. Do you accept applicants in situations like this?
Yes! We consider applicants from all over. Having a variety of cultures and backgrounds represented is always fun for everyone involved. We have been doing this for years, and our local staff are great at helping our staff from farther away adjust to life in central Washington. If hired, we will provide transportation to and from the airport.
Domestic staff flying in are responsible for booking and purchasing their own flights.
For international staff, we work with Camp Counselor USA (CCUSA) to process visas and book flights. If you are an international staff and are particularly interested in working with Lazy F, reach out to us at the same time you reach out to the CCUSA office for your country.
How do I know I will be a good fit for the Lazy F staff?
Consider these words from Alex, our Program Director:
"I started at Lazy F in January 2020, without ever having served on summer staff or attended Lazy F as a camper. The staff and community surrounding camp have been so welcoming. Summer staff are some of the most open and engaging people. You'll easily make connections on staff as long as you're willing to have fun and play a few board games. I strongly believe that Lazy F is one of the most inclusive places I've worked—in the real sense of the word inclusive—and I don't see that changing any time soon."
Where exactly is Lazy F?
Lazy F is tucked into a beautiful canyon in the foothills of the Cascade Mountains in central Washington. We're about two hours from Seattle, 45 minutes from Yakima, and 20 minutes to downtown Ellensburg. Our location provides for access to shopping, dining, nature, and tourism on the weekends or breaks.
What is the staff housing arrangement?
Staff who are supervising campers will sleep in the cabin with the campers. However, we reserve our Saddle Pockets lodge for staff when they are not supervising campers and for over weekends. You will be able to store things here the entire summer.
Apply for Lazy F Summer Staff
Click below to visit our staff application portal!