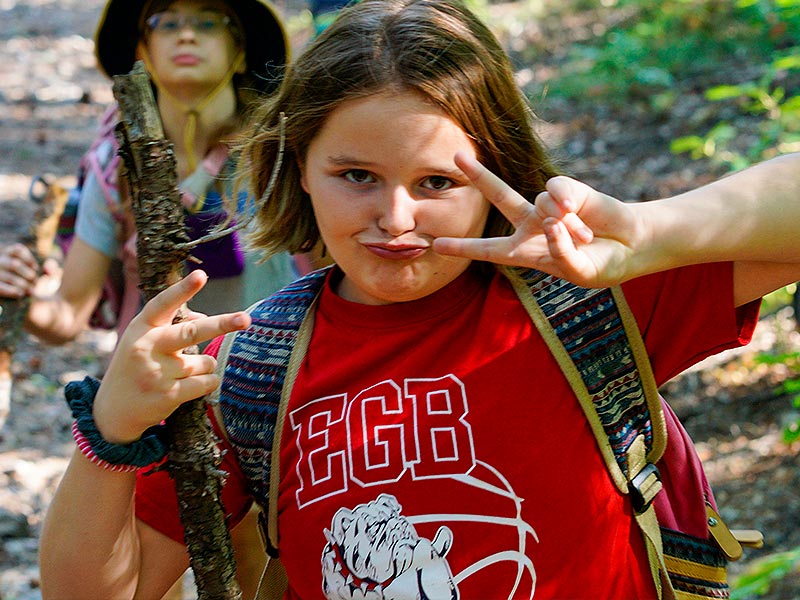 Welcome Parents
and Guardians!
Whether you are a prospective parent looking for details about our program or one of our multi-year parents, this is the page for you!
Here are the basics of our summer camping programs:
Lazy F is accredited with the American Camp Association.

 We pride ourselves in not only meeting, but also exceeding their standards for safety and developmentally appropriate programming.

We believe camp is a place to build character by doing hard things, making new friends, and having fun with people who are different from us, in ways we can't at home or school. The values we focus on are

Confidence, Being a Caring Friend, Teamwork, Responsibility, and Respect.

Lazy F has a long history of being welcoming and inclusive of all. If you're unsure as to whether or not Lazy F is a good fit for your camper, please contact us below:
Lazy F offers secular camping in Summer String Academy, and we offer a faith-based program in all of our other camps. For more specifics, visit the page for your specific camp once you have finished here.
Help your camper have
the best week possible.
The best way to have a great week at camp is to be prepared! Below is a packing list of the things you should (and shouldn't) bring. Also take time to review your parent packet. 2023 parent packets will be sent out by email before May. The day camp parent packet is available HERE. The overnight parent packet is available HERE
Also take time to get your camper and yourself into the camp mindset. The American Camp Association has an excellent parent blog full of useful articles. These three quick reads are recommended for anyone sending a camper this summer:
Finally, try the following as you prepare for camp. At some point during the week leading up to camp, have your camper take some time away from screens and electronics. This will help them get ready to unplug at camp. Use this time to have them pack their own luggage for camp. As you double check with them, have a conversation about what they're excited for and what they're nervous about in the week ahead. Setting reasonable expectations is an important basis for this experience.
Prescription Medications, in their original containers (if needed)
Reusable water bottle
Swimwear
Jackets or sweatshirts for cool mornings or evenings
Towel for showering (overnight camp only)
Towel for water activities
Shorts and/or pants (enough for each day,1 spare pair for day camp)
Shirts (enough for each day. 1 spare for day camp)
Socks and underwear (enough for each day, 1 spare for day camp)
Pajamas if desired (overnight camp only)
Tennis shoes (sturdy enough for a short hike)
Sandals for water activities (No flip-flops please)
Sleeping bag/bedding and pillow (overnight camp only)
Extra blanket (overnight camp only)
Toothbrush, toothpaste, soap, deodorant, and other toiletries (overnight camp only)
Hair ties for long hair
Sunscreen
Non-aerosol insect repellent
Any other items specific to your camp (addressed in parent packet)
Campers occasionally bring some of these items, but they aren't essential:
Sunglasses, hat, or visor
Book to read during rest time
Materials for journaling or writing letters
A small stuffed animal from home
Flashlight
Please do not bring any of these items:
Food, gum, or candy (they attract bugs into the cabins)
Cellphones, cameras, or any other electronic devices
Alcohol, tobacco products, drugs, or any medication not prescribed to your camper
Anything that would hurt someone (any kind of weapon, knife, fireworks, etc)
Personal sports equipment (archery, lacrosse stick, etc.)
Pets
Anything valuable that you wouldn't want to lose or break
Lazy F is located in the Manastash Canyon, 20 minutes from Ellensburg, Washington.
You can find us by typing Lazy F Camp & Retreat Center into Google Maps or Apple Maps on your smartphone.
Or, if you want more traditional instructions here is how to find us from Western Washington:
Head east on Interstate 90 following signs
    for Ellensburg.

Take exit 101 for Thorp Hwy toward Thorp.

Turn right onto Thorp Hwy S and continue          for 2.0 miles.

Turn right onto Cove Rd and continue for
    4.2 miles.

Turn right onto Manastash Rd and continue        for 6.5 miles.

Lazy F will be to your left. If the road                    becomes gravel, you've gone about a mile          too far.

Pull in and say hello! We like it when people        say hello.
If you are coming from Eastern Washington:
Head west on Interstate 90 following signs          for Ellensburg.

Take exit 109 for Canyon Rd.

Turn right onto Canyon Rd and continue for        0.5 miles (until the next traffic light).

Turn left onto Umptanum Rd and continue        for 1.7 miles.

Turn right onto Manastash Rd and continue        for 10.0 miles.

Lazy F will be to your left. If the road                    becomes gravel, you've gone about a mile          too far.

Pull in and say hello! We like it when people        say hello.
Lazy F Camp and Retreat Center
16170 Manastash Rd.
Ellensburg, WA 98926
If you have any questions, we would love to help and chat: 
Check In & Out (Overnight camp)
Check-in and check-out times vary by camp. More details about your specific camp can be found in your welcome letter and will be sent through email as camp approaches.
During check-in, you will confirm your registration, confirm your pick-up person(s), take care of any remaining balances, set up a store account (if interested), and check in with the Health Care Provider (more details below).
Check-out consists of gathering all belongings, signing your camper out with their small group counselor, checking the lost and found, collecting any leftover store balance, collecting any medications, and checking out at the exit in your vehicle.
We take the safety of our campers very seriously. Campers are only allowed to depart with their approved pick-up person(s). If you need to update this list, please call us any time before check-out. Staff will ask for your ID when you are signing out your camper and as you are leaving in your car. Your license plate also will be recorded. Please come prepared with a government issued photo ID. We thank you for your cooperation.
Check In & Out (Day Camp)
Check-in/ Arrival
Check-in each day is from 7:30a to 8:00a. Please park in the parking lot behind our office. Here's how check-in will work this year:
Our check-in staff member will meet you at your vehicle.

They will check your camper in on Brightwheel.

If our staff have any questions or notes, check-in staff will go over them with you here. This is also an opportunity for you to discuss questions or concerns with staff.

Check-in staff will escort your camper to their group.
Please allow additional time for check-in on your camper's first day with us as our program director or health care provider may wish to discuss specifics of caring for your child with you.
Please be prompt but do not arrive early. Campers may not be left with Lazy F staff until 7:30a or later, unless written pre-approval is given by the program director.
If you anticipate dropping your child off after 8:00a, please send us a message in Brightwheel and bring your camper to the office (first building on the left) when you arrive.
Check out/ Departure
Check-out each day is from 5:00p to 5:30p. Please park in the parking lot behind our office. There will be signage to help guide you. Here's how check-out will work this year:
Our check-out staff member will meet you at your vehicle to confirm the camper you are picking up.

The staff member will retrieve the camper from their group and escort them to your vehicle.

Staff will check your camper out on Brightwheel.

If our staff have any questions or notes, check-out staff will go over them with you here. This is also an opportunity for you to discuss questions or concerns with staff.
Please be prompt and provide notice if you anticipate arriving to pick-up your child after 5:30p. We understand that life happens, but a pattern of repeated late pick-up will not be tolerated. Resolutionary action will be taken, up to and including cancelling a camper's registration for future sessions of camp.
If a parent or approved pick-up has not arrived by 5:30p, we will contact parents, approved pick-ups, and emergency contacts by Brightwheel or phone. If we are unable to reach any parents, approved pick-ups, or emergency contacts by 6:00p, we will contact Ellensburg Police Department or Washington Department of Health and Human Services who have more resources to reconnect you and your camper. 
If you anticipate picking up your camper before 5:00p, please send us a message in Brightwheel as early as possible so we can have your camper close to the office when you arrive. If you camper has a regular schedule of sports, appointments, etc. please feel free to sumbit the schedule in writing on the first day of drop off so we can be prepared for the days that your camper is leaving early. 
Emergencies
Family Emergencies
In the event of a family emergency, please call our office and we will make sure your camper receives any emergency communication. If no one picks up, please leave a message and email our program director at [email protected]. We do ask that if this family emergency does not require your camper to leave camp prematurely that you consider waiting to tell them upon departure. There is nothing that will put a damper on your camper's week like receiving bad news over the phone.
Emergencies at Camp
In the event of lost or missing persons, evacuation, fire, or other natural disasters, parents will be notified when the safety of our campers is secured and as specified in our Emergency Action Plans.
Medical Emergencies
For a medical emergency, serious incident, or illness at camp, we will make every effort to call you. Please make sure the numbers for you and any emergency contacts are correct and up-to-date. In the event that out-of-camp health care is utilized, the camp will provide you with a written summary, including information such as:
Nature of illness or health concern

Name, address, and telephone number of provider

Diagnosis and prognosis of the provider

Description of health care given by the camp staff

Recommendations for follow-up care at home
Routine Medical Practices and Medications
Routine Medical Practices
Normally, we will not contact you for routine health care problems (i.e., skinned knees, insect bites, upset stomach, etc.) that are not severe, or do not require the additional attention of an out-of-camp health care provider. In these instances, the Standing Orders of the camp physician will be followed. Please contact us if you require a practice different from what is described above.
An additional note about illnesses: Please call us if your child is contagious and cannot come to camp on check-in day. We will gladly accept them at camp a day late once they can no longer transfer their illness.
Medications at Camp
We take the administration of medications very seriously at camp. Here are some things to make sure you have when you come to check-in:
All prescription medications in original containers with written directions for dispersal from prescribing physician. We cannot vary from doctor's orders.

Only the amount needed for camp plus a few extras.

All other non-prescription medications, ointments, and vitamins that your camper takes regularly in original containers with signed instructions for dispersal from the camper's parents or guardians.

ALL MEDICATION must be turned into our health care provider at check-in!
Other Information
Food: Your camper will be provided with three nutritionally balanced meals and regular opportunities to purchase snacks from the store. We prefer that you do not send additional snacks since there is no food allowed in the cabins as it can attract pests.
Special Dietary Needs: Please make sure you have listed any special dietary needs on your camper's registration form. We do everything we can to make sure their needs are met. If you have listed a special dietary need, our food service manager may be in contact to gather more information so she can best serve your camper.
Photos: We will be providing access to photos from the week through a photo sharing service. Instructions on how to access the photos will be distributed at check-in, check-out, and via pre-session email. We ask that our campers do not bring digital cameras with them to camp. Cell phones are NOT ALLOWED during the week of camp.
Camp Store: Lazy F has a camp store. Campers have the option of purchasing additional snacks and drinks during free time. The store is also open at check-in and check-out if you desire to make purchases during those times. All proceeds from the store go into our campership fund.
$10-20 is plenty of money for the week outside of clothing purchases. You will have an opportunity to add a balance to your camper's store account at registration. Any cash sent with your camper will be added to this account so it is not misplaced. Your remaining balance will be returned to you at check-out. 
Electronics: Lazy F is proud to be an electronic device free environment. We encourage campers to put their screens down in order to fully experience nature and community. For this reason, we ask that all electronics, including cell phones, stay at home. Please note that any electronics that did not go home with parents at check-in will be safely stored in our vault for safekeeping and returned to campers on Friday.
Mail: We encourage you to send mail to your camper during the week! You can use the address listed. Send it electronically, or drop it off at check-in (please label it by day). Receiving mail is a highlight for most campers. If you send a care package, please avoid sending food or candy or items that make a mess in the cabin and encourage your camper to enjoy their goodies with their camp friends. 
You may email your camper at [email protected] (include their name and camp session they're attending, please!). Please limit your message to one a day. We will print them once a day (around 4:00p) and distribute them with regular mail.
Visiting Camp: As a blanket policy, we ask that parents/guardians do not visit their camper during the camp week. For safety reasons, persons not registered at camp are not allowed on site during camp sessions. If for any reason your camper is having a difficult time, our camp program director will contact you. If you are concerned about homesickness, please record this in your camper's registration, read this article, and feel free to communicate with the program director as your camp approaches.
Do you have questions? Want to get to know us more? Need a paper application? We'd love to hear from you: