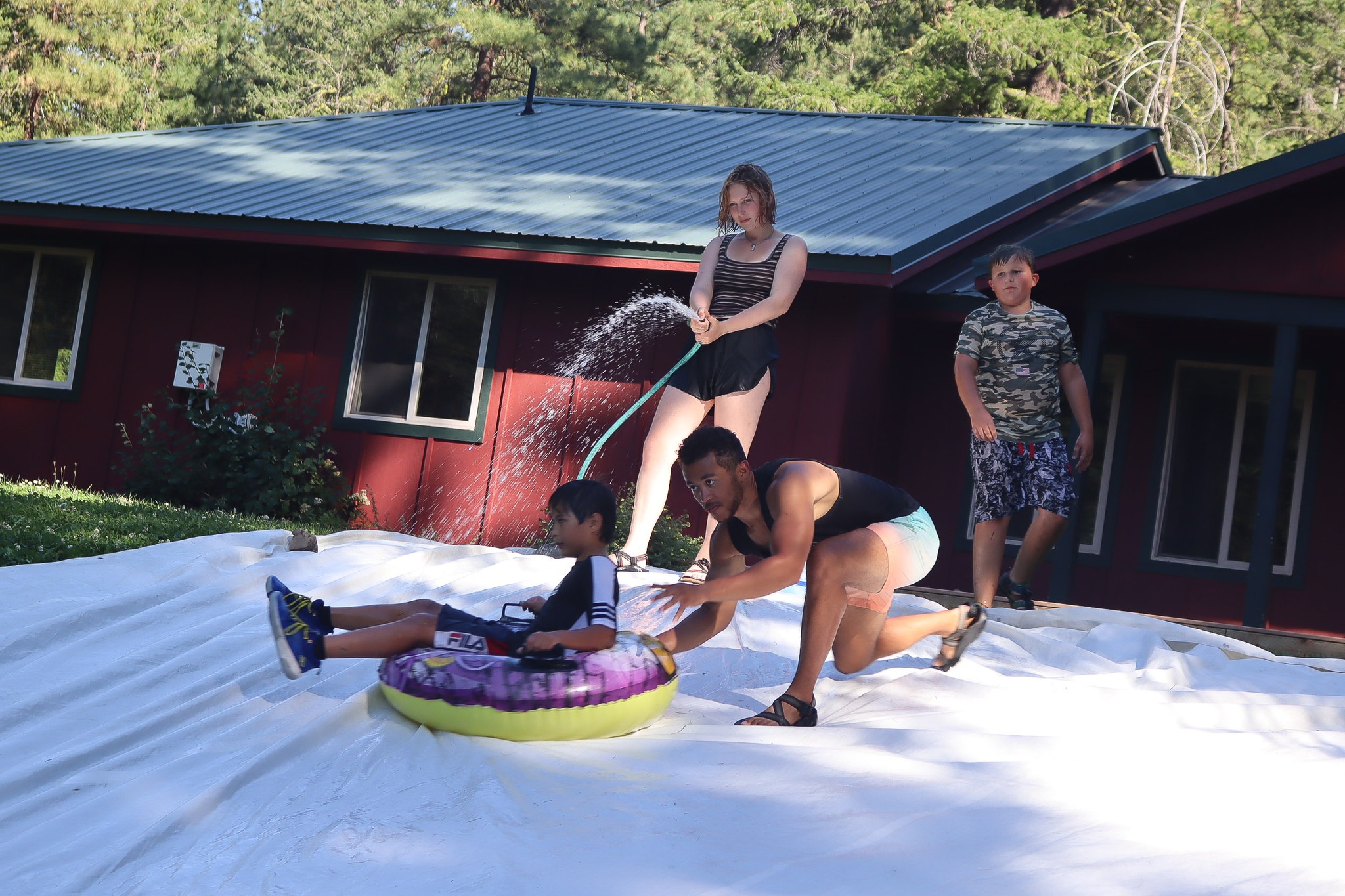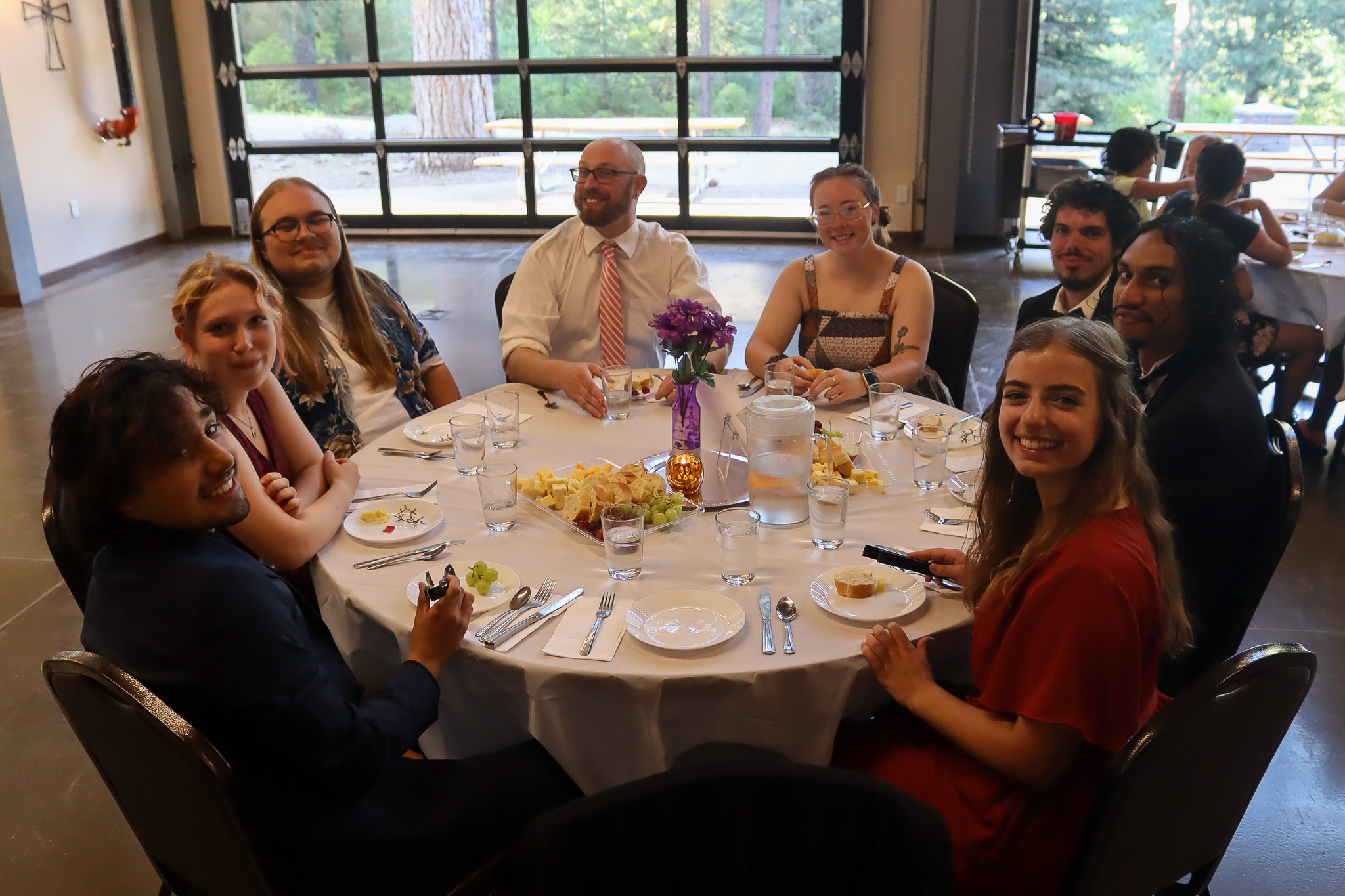 Welcome to the Lazy F 2023 Season! This is your guide book to before summer logistics, questions, etc. This page will contain a lot of information, and is set up to explore on your time. While there is a lot of information covered here, we cannot read minds. Please reach out if there is anything else you feel you need to know! 
Here are the basics of our summer camping programs:
Lazy F is accredited with the American Camp Association.

 We pride ourselves in not only meeting, but also exceeding their standards for safety and developmentally appropriate programming.

We believe camp is a place to build character by doing hard things, making new friends, and having fun with people who are different from us, in ways we can't at home or school. The values we focus on are

Confidence, Being a Caring Friend, Teamwork, Responsibility, and Respect. 
Some things we need to know!
How do I get a camp name?
 Camp names is something we do at Lazy F for multiple reasons, but mostly it's just fun.
You can either pick your name or have someone bestow it to you. All names must be camp appropriate in sound, spelling, and reference. Your camp name can be wild and crazy, or just a shortened version of your name!
Lazy F Programs: An Overview
This will be a 5000 foot view of what the programs at summer camp will look like, we will get into more detail during staff training, and by July you will be a pro at programs!
Day camp is our biggest program at Lazy F. We will have between 40-50 kids elementary aged (6-11) every week from 7:30am-5:30pm. When working day camp you and a co-counselor will be assinged an age group where you get to lead schedueld and free-time activities in the morning, and electives in the afternoon.
Overnight camp is the traditional "camp" experince. Campers will arrive on Sundays at 3pm and leave Fridays at 10:30am. You will be assigned a small group with a co-counselor and together you get to lead the campers through the week with ropes courses, hikes, etc. Overnight camp includes Grandcamp, a camp for grandparents and grandchildren, and Family Camp, a camp for familes! If you are working either of these camps we will go more into detail about what they entail!
SSA is a secular orchestra camp ran by Christi and Chase Chang! This camp is intense and there are a lot of campers, but one of the most fun weeks of the summer!
Here is your list of things to bring to Lazy F, non of this is mandatory, but a lot of it is helpful! 
Clothing:
Comfortable pants/shorts
t-shirts, tank-tops, long sleeve shirts
Rain Jacket
Sweatshirt (X2)
Jeans
Nice-ish clothes for in-town activities
Tennis shoes/ closed-toed shoes
Athletic sandal (with a heel strap)
Lots of socks and underwear
Toiletries:
A few shower towel
Beach Towel
Toothbrush & Toothpaste
Medicine
Pads/tampons
Hairbrush & Hairties
Deoderant
Shampoo & Conditioner
Body Soap
Face wash
Washcloth/Loofah
Sunscreen
Bug spray
Laundry Bag & Soap
Misc.

Bedding

Bible

Bandanas

Lightweight Backpack or fanny pack

Headphones Sunglasses

Watch

Notebook/Journal

Pens/Pencil

Hand Sanitizer

Flashlight

Reusable water bottle

Sharpies

S

un hat/baseball cap

Chargers
Optional but good to have:
A few masks

Hawaiian shirt

Anything tye die

Swimsuit

Fancy Clothes for Programmatic Fancy times! 

Designated clothes for Messy Olympics (Paint, mud, water, etc.)

Your favorite book
Masking or duct tape
Shower caddy
Hammock
Hiking boots
Disposable camera
Extra suitcase for overnight camp
Extra water bottle
Shower shoes
A Buff
Chapstick
Day camp has different themes every week of summer Camp! We will have different activities each week to match the themes! 
Week 1: Lumberjack Jamboree –The Cascades' fir forests have been a major attractor for logging operations and the rustic, outdoor lifestyle that comes with them. This week there will be an emphasis on learning about the forests of Washington and enjoying elements of the lumberjack lifestyle! Flannels welcome!
Week 2: Knights of Camp-a-lot –"Welcome to the noble kingdom of Camp-a-lot, where thy days shall be filled with mirth and merriment… As long as thou avoidest the dragon!" Camp will embrace a medieval theme this week, complete with quests, festivities and more. Don't worry, suits or armor aren't required during the summer heat!
Week 3: The search for Morris – It isn't common knowledge, but there is a Sasquatch who lives on the hill south of camp. His name is Morris, he's a cowboy, and he is a longtime friend of Lazy F. He's a bit shy and hard to find when campers are around, but deep in the woods, your camper will encounter signs of Morris' activity and several clues to where he is from
Week 4: Somewhat super –It seems there's something suspicious going on at camp this week. Luckily, it's also the week that we host the Somewhat Super Squad – a group of incredible individuals with superpowers that are… unconventional to say the least! By the end of the week, your camper will help the Squad thwart a supervillain who's plotting to change camp as we know it. All superheroes and secret identities welcome.
Week 5: Christmas in July – It's time to deck the halls for an unusually hot holiday season at Lazy F! We'll be placing a summer twist on classic Christmas traditions this week.
Week 6: Canyon Cup – Throughout this week, your campers will be part of a team competing for the first annual Lazy F Canyon Cup! Teams will work together every day to earn points in tons of creative ways. At the end of the week, whichever team has racked up the most points will be awarded the Canyon Cup. Let the games begin!
Week 7: Shipwrecked – This week we will be cast away on the Island of "Lazy F" and needing to figure out how to survive. We will be learning about outdoor skills such as, cooking, shelter building, etc. As we embark on our journey to get back to the mainland!
Week 8: Mystery in the manastash Canyon – Calling all detectives! Not all is as it seems this week. Something mysterious is happening, and camp needs YOU to crack this case wide open. Work with fellow detectives to gather clues, question suspects, and figure out who is behind the strange happenings at Lazy F before time runs out!
Week 9: Into the wild – One of the key elements of camping is time spent outdoors. This week, campers will experience the wonders of nature, explore the canyon, and encounter creation like never before!
What is camp Like?
Lazy F is located in the Manastash Canyon just outside of Ellesnburg, WA. Temperatures stay pretty mild during the year, but the summer can get pretty hot! No need to fret, we have a stream running through camp that you can cool off in. 
What Can I expect during staff training?
Staff training will be busy! There is a lot to cover and a lot to learn, so free time will be minimal. We will have time set aside everyday for you to have a moment to yourself, or a moment with God. Get ready to learn, grow, and meet your fellow staff members!
We understand if there are times that you may miss staff training. If this is the case please contact Mo (the Program Director) to see what sort of make up needs to happen.
What will I actually be doing at camp?
Truthfully- there is no straight answer to this. Every day is a new adenture at camp! 
But here are some things that you can expect to do on a weekly basis at camp: 
Leading bible encounter for campers, facilitating low ropes and team building experinces, eating meals with campers, checking in with leadership staff, and having tons of fun! 
What does time off during the summer look like?
Please let Mo know ASAP if you know that you will be missing days or weeks during the summer! 
Lazy F Summer camps run quite long compared to other camps around the US and for that reason all staff memebers get 1 week off during the summer. For 2023 the week is July 16-22. You can stay onsite during this week but you will not be working. If you are taking a different week off this summer and would be interested in staying that week and working get in touch and we can work something out! 
During the week you will get 2 hours off every day, Overnight camp will get most of Friday from when campers leave to Sunday at 10 am off, Day camp will get Saturday and Sunday off! 
Do I have to be cpr, first ad, challenge course certified before camp?
No! We will take care of that during staff training. If you are already certified in these areas be sure to send proof to Mo, that way we don't have to re-cert you!
We will re-cert for level 1 challenge course facilitation so you can be familiar with our site! 
What is Camp's cellphone policy?
We expect you to be connected with campers during the day and this means staying off your phone. You are free to use it around camp when you are on breaks during the day, and during the weekends.
Camp does not have amazing service, but we do have wifi. Please be sure to let your friends and family know that you may not be able to connect with them as much this summer.
If there is an emergency and your family needs to get a hold of you let them know they can call the office and we can get information out to you! 
What is the dress code?
Our philosphy at Lazy F for staff is that as an adult you will know what is appropriate to wear in a camp setting around kids.
We want you to be comfortable during the summer heat and trust that whatever you put on in the morning will be suitable. If you have any clothing or tattoos that allude to innapropriate context (sex, drugs, swearing, alcohol, etc.) please make sure those stay covered and away. 
If you are unsure of a piece of clothing trying putting it on and running around, jummping, crawling, or climbing in it. If you feel secure it is alright for camp!
We will have a few staff shirts that you wear to help parents identify you during pick up and drop off for overnight camp.
*If you want to bring things to match the themes of every week you totally can, but that is optional!
Misc.
When do I get paid: 25th of each month via direct deposit
Can I order stuff and get mail at camp: Yeah! We love writing letters and getting fun stuff! Just make sure your name is on the package so we know where it goes.
What if I'm coming from far away: Exciting! Please let us know when and how you are getting to camp especially if you are flying!
Where am I sleeping?: In our staff house Saddlepocket, it's bunk house with a common room and 2 bathrooms