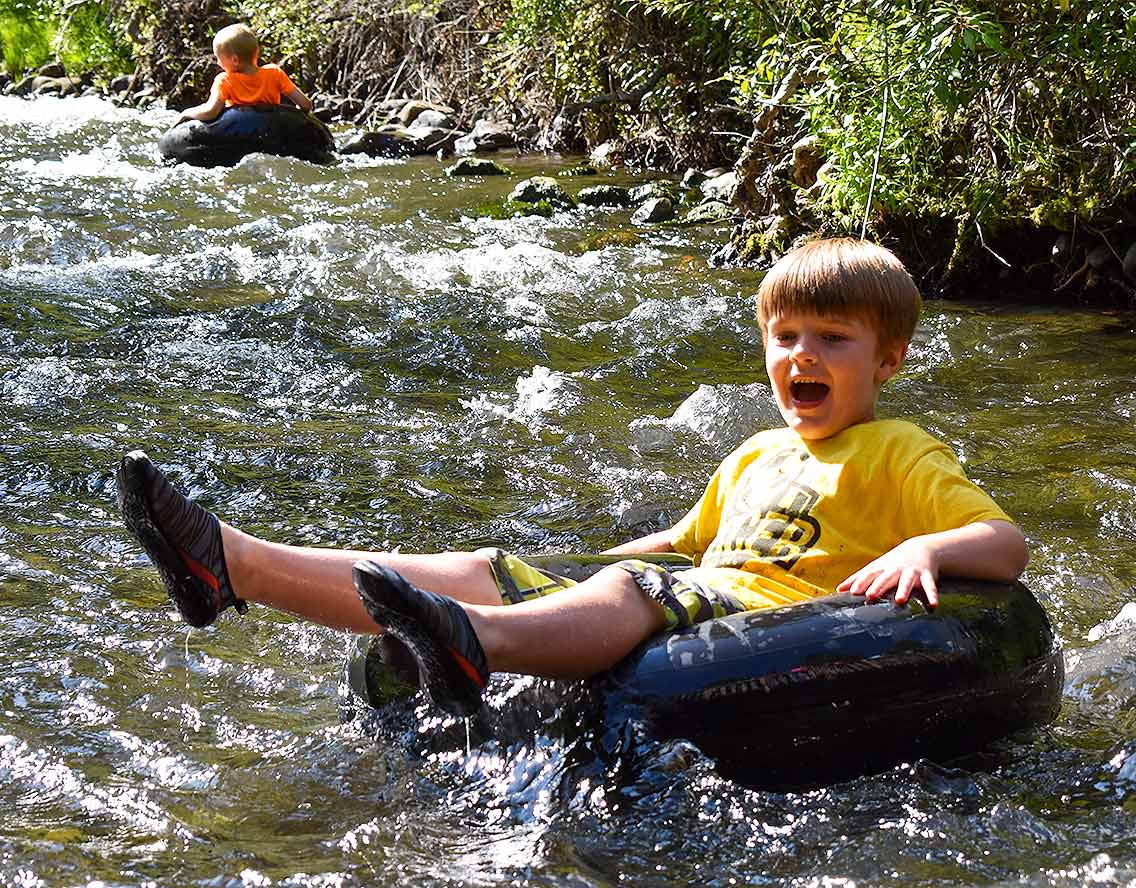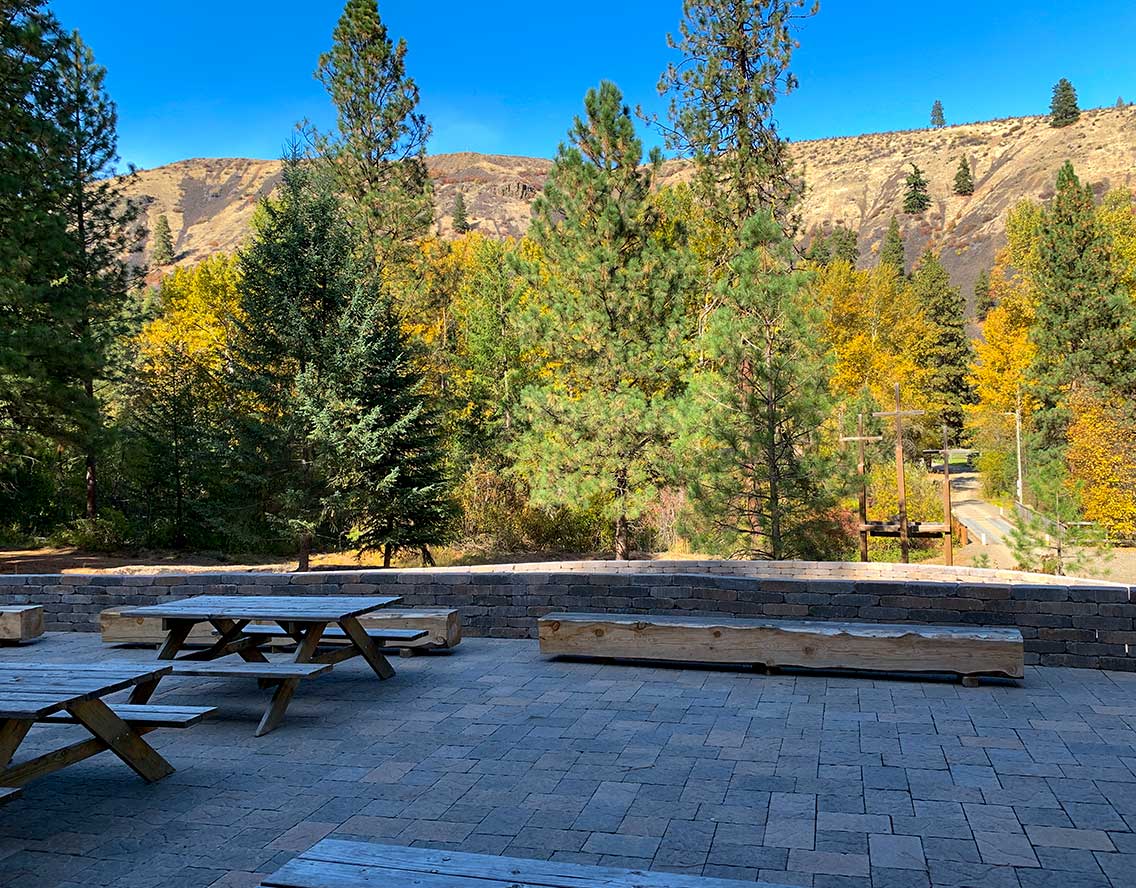 Lazy F offers the only American Camp Association (ACA) accredited day camp program in Kittitas County. You can read more about ACA accreditation below.
Lazy F has been offering faith-based overnight youth camping programs since 1954 – so we know a thing or two about youth development and recreation. In light of the growing need for summer childcare in Kittitas County, we have decided to offer day camps for our local families.
Our program is outdoor-focused. Your camper will spend about 70-80% of their time here with their peers in the outdoors. Situated in the Manastash Canyon, we can offer your camper the outdoor experiences that are frequently missing from modern life – playing in the creek, chasing frogs by the pond, running through the meadows hidden in our forest – as well as classic camp games and activities.
We are offering three age group day camps this summer:
Kindergarten Camp (5 & 6 years old) is great for our younger friends who need a slower pace experience in nature. We do fewer activities each day but for a longer amount of time. We focus on the "little things" like playing in the creek, creating masterpieces at the craft cabin, and lots and lots of gagaball. These campers maintain a 6:1 camper-to-staff ratio or lower in groups no larger than 12.
Primary Camp (6 – 8 years old) is the perfect balance of structured, high energy play and laid back time spent just experiencing nature and building friendships. Primary campers start to venture off the beaten path (with adult supervision of course) and discover the beauty and novelty just past the treeline. These campers maintain a 8:1 camper-to-staff ratio or lower in groups no larger than 16.
Elementary Camp (9 – 12 years old) is built on the idea that we can play with a purpose. Campers are given choice in their daily activities to foster a sense of agency. More challenging activities – both mentally and physically – provide an opportunity to develop deeper friendships. Counselors can take these campers on almost all of our 110 acres to spark and foster their curiosity. These campers maintain a 10:1 camper-to-staff ratio or lower in groups no larger than 20.
COVID-19 Precautions: We follow an operation plan adapted from the state guidance for day camp operation during COVID-19. We are happy to discuss details with parents, but broadly speaking our operation plan consists of requiring masks while at camp, enhanced sanitation of shared spaces throughout the day, separation of groups of campers, reduced number of enrollments, and daily health screenings. We continue to monitor changes to the state guidance and will notify parents of registered campers if any substantial changes take place.
Dates and Times: The 2021 program is offered every Monday-Friday, 7:30a-5:30p from June 21st through September 3rd. This is the 11 weeks of Ellensburg School District summer break.
Availability: Under current restrictions with regards to COVID-19, we can only offer 40 spots total across our three age group camps.
Registration: Registration is open. The program is broken down into 11 week-long sessions. You can register your camper for as many or as few weeks as you like. If you intend to have your camper with us for the whole summer, we encourage you to register as soon as possible as we cannot guarantee spots. We use the online registration platform Campbrain.
Price: The price for registration is $225 per week per child. This includes all activities and meals. A $75 non-refundable deposit is due at time of registration. We offer a standard payment plan that bills on the first of each month from your time of registration through August 1st.
Financial Aid: We understand that a summer camp experience can be a big expense. We want to do our part to make it affordable. The financial aid application is an optional part of registration. If you would like to apply for financial aid, follow the registration process until you see the Financial Aid Application form. Complete it and follow the directions provided in the form.
Food: As a part of the registration fee, we provide campers breakfast, lunch, a morning snack, and an afternoon snack. We are happy to accommodate your camper's dietary restrictions.
Transportation: We are unable to offer transportation between Ellensburg and Lazy F in the 2021 season.
If you're not ready, no worries. You can read more about our program below.
Have a question? Feel free to ask.
American Camp Association accreditation is the best indicator of a camp's commitment to safety, experiential education practices, and growth-oriented programming.
To maintain our accreditation, we voluntarily undergo regular reviews of our operations. This is not only a paperwork review but also includes an in-person review by ACA standards reviewers during our camp operations. You don't have to just take our word that we know camper safety and development, the ACA vouches for that.
If you are interested in learning more about the accreditation process and why accreditation makes a difference, click here to view for an article on why many parents choose an ACA-accredited camp.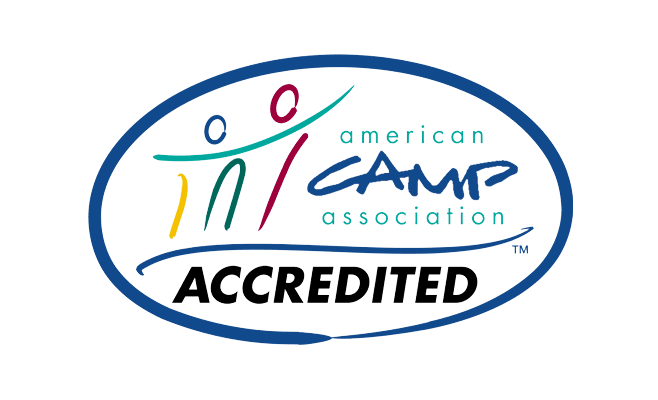 So what do these kids do all day? That's a great question! There are variations from day-to-day and week-to-week but in general, days follow this kind of flow:
7:30
Drop-off
8:00
Breakfast
8:45
Small Group Activity 1 / Electives
10:15
Morning Snack
10:30
Small Group Activity 2 / Electives
12:00
Lunch
12:45
Rest-period
Faith Curriculum time
1:30
Small Group Activity 3
2:30
Afternoon Snack
Camp Store Open
Lawn games / Board games
3:30
Big group / themed activity
5:00
Pick-up (until 5:30)
While it's impossible to create an exhaustive list, here are some things your camper could be doing during any of the activity time slots:
Tubing the Manastash Creek
Climbing the Climbing Tower
Hiking (we have miles of trail)
Playing Gagaball
Archery
Creating masterpieces in the Craft Cabin
Learning about nature
Water olympics
Slip & slide
Free play in a natural setting
Classic field games (capture the flag, kickball)
Unconventional field games (capture the hag, tommyball)
Not to mention, some activities will be based on our weekly theme (you can see all the themes when registering and in the parent packet)
So don't worry, if you're sending your camper to us all 11 weeks, they'll still have plenty of fun things to do.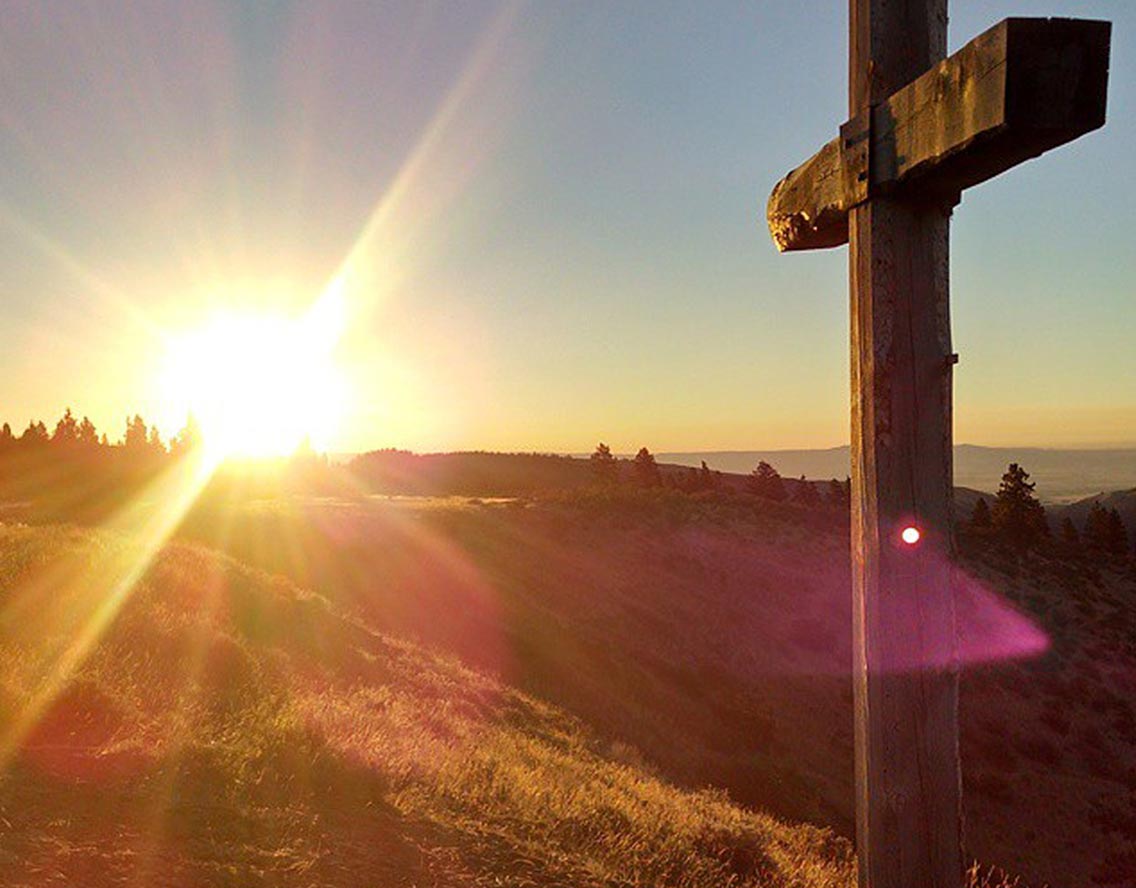 Lazy F is a faith-based camp. What  does that mean for your campers experience at day camp?
We recognize that not everyone is engaged or interested in faith. Our goal in teaching faith is not to indoctrinate your child into any particular belief system. Our goal is to spend about 45 minutes throughout the day sharing valuable stories from the Christian faith and learning how they are shaping our lives today.
This summer, our faith curriculum is entitled "Restored" and it focuses on the theme of restoration in the Christian tradition. Each week, we'll be learning stories of restored hope, relationships, promises, a restored world and more.
The complement to this curriculum is our camp pastors. We are partnering with churches in Ellensburg to have pastors involved in our program each week, not as preachers or evangelists, but as positive adult role models that your camper will see in their community throughout the year.
The mission statement of Lazy F camping programs is "Inviting All to Transform the World through Creation, Community, and Christ."
We believe in teaching children that recreation is an integral part of holistic living. We believe in responsibly connecting kids to the natural world and fostering appreciation for and curiosity about our local wild spaces. Our intent is that campers who have spent a summer at Lazy F will always be able to find equal parts solace and adventure in the woods.
We believe that values can be taught within the context of communities, and so we teach values to campers. We build strengths like cooperation, gratitude, and confidence as well as teaching positive habits like saying "please" and "thank you'. We remember that our life is better because of the people in it, so care for our communities.
We believe that our faith calls us to follow three general principles: to do no harm, to do good, and to love God by loving our neighbor.
We believe that by teaching your child the habit of recreation, by instilling values in the context of community, and by building on the three principles, we are giving your child many of the necessary tools to be a world changer.
Still Have Unanswered Questions?
Get in touch via the contact form above or by phone at (509) 962-2780.
Otherwise, why not register now?